We can help you recover from mold damage and get back to normal as soon as possible.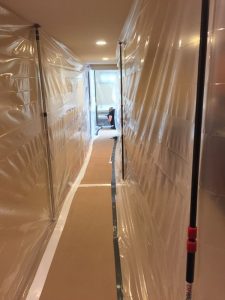 While molds are part of our natural ecosystem and typically present in small, non-harmful amounts in virtually every house, if it gets out of control or particular variants make their way into your home, it can be cause for major concern. Mold can have negative health consequences, especially if the occupants of a home are sensitive or allergic to mold, but it can also cause significant damage to the structure of your home and the items within it. At Howell Healthy Homes, we help homeowners throughout the Topeka, Kansas area deal with mold damage in their homes with our professional mold services.
Mold damage can present itself in many forms, but our team has the skills and equipment to help you remove the damaged areas and remediate your home as necessary. Some of the common types of mold damage we encounter include:
Structural damage – Mold tends to grow on organic substances and causes them to deteriorate as the mold eats away at the material. Drywall and wood are particularly common areas to see mold damage, and if left untreated, this can compromise the structural integrity of your home.
Personal property damage – Porous items like couches, mattresses, carpets, and clothing are all excellent places for mold to grow. Mold can cause staining and discoloration, as well as eat away at the material itself.
Unpleasant odor – One of the hallmark signs of a mold problem is a persistent musty or damp odor. Removing the stench is usually only possible with complete remediation, since leftover spores from incomplete removal attempts can easily take root again if the source problem is not found and eliminated.
Dealing with mold damage can feel overwhelming, but our team of experienced technicians is here to help you get your home back to normal. Contact our office today to learn more about our mold services, or to speak with a team member about how we can help you combat mold damage in your home.