When you know or suspect there is a mold problem in your home, turn to our team.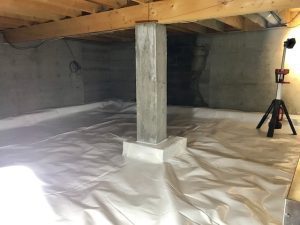 Mold is one of those things that can strike fear into the heart of any homeowner, and with good reason. Mold can be extremely difficult to get rid of if you are not a trained professional, and it can have serious health consequences if you are constantly exposed to it. At Howell Healthy Homes, we provide a complete range of mold services to help bring peace of mind to customers throughout the Topeka, Kansas area.
When you work with our team, you get the benefit of working with people who genuinely care about your well-being and want to help you live in a home that is safe and mold-free. Our mold services include the following options:
Mold Testing – If you suspect you may have mold in your home or know for sure and want to have testing done to find out exactly what type you are dealing with and how to best handle the situation, our mold testing service will provide the answers you need.
Encapsulation – When mold is present on a surface that cannot be removed, such as in certain areas of the crawlspace, encapsulation is often recommended. This process seals off the contaminated area and prevents the mold from spreading to other areas of the home.
Mold Removal & Remediation – When mold has taken over an area of your home, remediation is the best way to deal with the issue. In addition to removing any mold present, our remediation services also include thorough testing for unseen mold, sanitizing, containment, and cleaning.
To learn more about our mold services, or to schedule a visit from one of our expert technicians, contact our team today.
Similar Services We Offer: