When mold takes over, our team is here to provide expert remediation services.
Discovering that you have a serious mold problem in your home can be stressful and unsettling. You may be tempted to try to handle the situation on your own, but unless you are a professional, you likely don't have the proper training or equipment to handle a mold infestation and get your home back to a livable condition. For the health and safety of you and your family, only a company certified in mold remediation and testing, like our team here at Howell Healthy Homes, should be allowed to perform this service.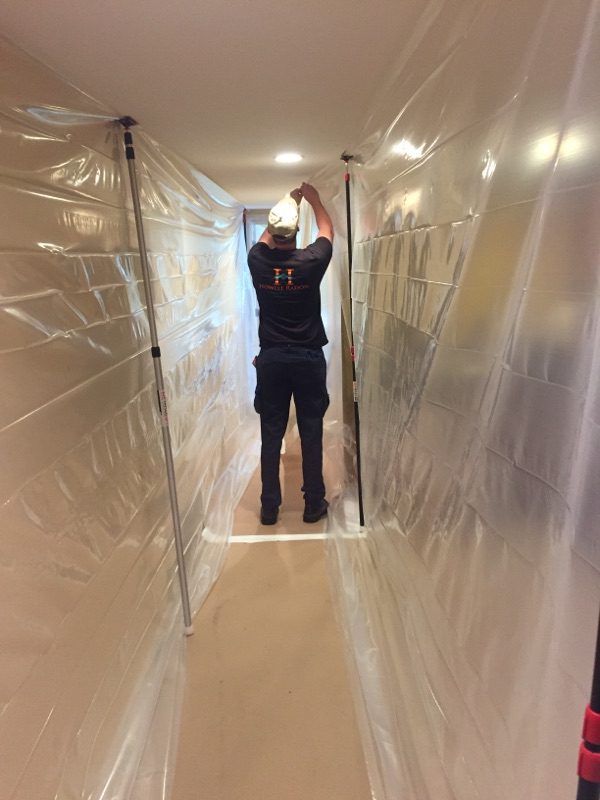 When you work with us, your mold remediation service will include secure containment, air scrubbers set up for negative air during work, pre- and post-air sampling, and proper PPE to ensure that everyone involved is protected from any harmful effects the mold may cause.
Just tearing contaminated material out without setting up containment according to industry standards leads to the spread of mold spores throughout your home. Our team follows all the necessary steps for mold remediation, including:
Containment & ventilation to prevent the spread of spores.
Cleaning & disinfecting to manually remove as much mold from surfaces as possible, followed by an application of a biocide or fungicide to remove any lingering spores.
Encapsulating any areas with mold that cannot be removed, such as crawlspaces, to prevent any mold that is present there from spreading.
We can even assist you with planning for how to address the mold source, including fixing any leaks, ventilation or duct issues, and other problems that cause moisture to gather in your home. To learn more about the mold remediation services we provide for customers in Topeka, Kansas, contact our team today.