Get the peace of mind that comes with professional radon testing and remediation.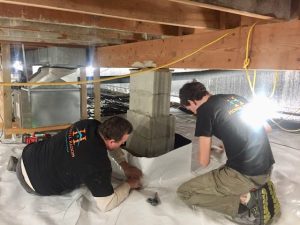 Radon is a radioactive, colorless, odorless gas originating from uranium and is very common. It has been proven to damage the lining of the lungs and lead to lung cancer if it is present in high concentrations in our homes and businesses. In fact, radon is the leading cause of lung cancer in non-smokers, and the Surgeon General recommends that all homes be tested to see if this dangerous gas is present at harmful levels.
At Howell Healthy Homes, we provide professional radon testing and mitigation services to customers throughout the Topeka, Kansas area, creating peace of mind that you and your loved ones are safe from this dangerous substance.
Because radon has no discernable smell, color, or other warning signs, the only way to know if your home has high levels is to test. When you use our radon testing services, we place a Continuous Radon Monitor (CRM) for a minimum of 48 hours in the lowest lived-in level of your home or business. You will receive a printout of the results that include your current radon average, as well as your hourly readings.
While there is no "safe" level of radon, according to the EPA, the mitigation action level is 4pCi/l, and the World Health Organization (WHO) sets the action level at 2.7pCi/l. If our testing finds levels within that range or higher, we can perform radon mitigation services to remove the excess radon from your home in as little as 24 hours. The specific methods we use will depend on the severity of the radon exposure and the layout of your home, but our skilled team will work with you to create a plan to safely lower your home's radon levels and prevent them from rising again.
Contact our team today to learn more about radon testing and mitigation or to schedule an appointment for a service. We look forward to bringing you the peace of mind you deserve.